As a safety manager in the manufacturing industry, you'll be aware of the huge range of hazards workers face. And, often, it's up to you to put measures in place to reduce the risk of workplace accidents.
It's your job to know the risks and prevent injuries. But how do you educate your staff about those? How do you create the right safety program and make sure it sticks?
Below, we'll guide you through seven of the best safety practices in manufacturing. We hope these will help you keep your staff safe and to achieve that crucial OSHA compliance.
Safety Issues in the Manufacturing Industry
Safety issues vary between manufacturing facilities. Generally speaking, however, there are a few common issues and accidents that can be avoided with the right safety measures in place.
Some common issues for safety managers to look out for, include:
Falling objects, such as those placed on high shelves in warehouses, or tools that can fall from scaffolding equipment
Staff falling from height caused by unsecured ladders or walkways
Excessive noise, including noise generated by power tools
Exposure to irritants i.e., asbestos, carbon monoxide or dust
Electrical incidents when workers are not following your predefined Lockout/Tagout steps
The hazards are many in this industry. So, it's important to ensure that you have the right safety measures in place in your working environment. This may be Personal Protective Equipment (PPE), secure storage, and proper near miss reporting to minimize the risk of any accidents or injuries occurring onsite during building or construction work.
OSHA Safety Requirements for Manufacturing and Industrial Plants
The Occupational Safety and Health Administration (OSHA) is responsible for all worker rights, responsibilities, and protections in the United States. It has strict requirements covering employer responsibilities. And it also provides industry-specific advice, tailored to all industries including the construction industry, manufacturing, transportation, and warehousing. OSHA's goal is to prevent work-related injuries, illnesses and deaths, so its guidelines are essential to follow.
Below, we've compiled a list of OSHA-approved, manufacturing-specific resources by industry, to help you understand which safety requirements and practices apply to your particular workplace. You can find the full list of resources by industry on the OSHA website.
| | | |
| --- | --- | --- |
| Industry | Resources Available | Links |
| Footwear and Apparel | Articles covering standards, hazards, safety and health programs, and workers rights  eLearning content about sewing and workplace health | |
| Chemical  | Articles about Chemical Facility SecurityContent around hazard recognition, evaluation, control and preventionContent covering chemical standards | |
| Food Processing | eLearning and articles on the topic of ammonia refrigerationContent discussing flavourings-related lung disease | |
| Meat Packing & Poultry Processing | Meat packing industry publicationsOSHA guidelines for the meat packing industry including standards, hazards and solutions | |
| Plastics  | Online training about plastics machineryContent on standards, hazards and solutions covering composites and the plastics industry itself   | |
The 7 Best Safety Practices in Manufacturing
Now you've got to grips with the latest in OSHA's guidelines for your manufacturing business, you can begin to put in place some of the best safety practices to reduce your risk of workplace hazards, injuries and accidents. Here are some tips covering seven of the best safety practices:
1. Develop a culture of safety
One of the best ways of ensuring workplace safety for the long term is to focus on improving your safety culture at work.
By driving a positive culture that rewards good safety practices, your staff will be motivated to stick to the rules. For example, safety incentive programs can help reduce workplace risks and create a safer work environment.
A few simple ways to get started with developing a culture of safety at work include:
Leading by example
Encouraging and providing regular safety training
Creating safe ways to report safety violations, without backlash
Always investigating incidents and accidents thoroughly, without automatically attributing them to 'human error'
Being positive in your approach by rewarding good attitudes to safety and good working practices as you see them taking place
By prioritizing safety and reinforcing its importance in your workplace, you shift the focus away from concealment and reactive practices. Instead, you build a culture of safety based on transparent incident reporting and proactive accident prevention procedures.
2. Organise your first aid response
Unfortunately, even with watertight safety procedures in place, workplace injuries and accidents do still happen. That's why it's important to organize your first aid response not just internally, but by educating all staff on what to do in various situations.
That doesn't necessarily mean training all your staff to be first responders. But it's important that, if a worker does come across someone who needs first aid, they know who to contact and what to do without compromising anyone else's safety in the process.
It's an OSHA requirement that all employees work in a safe and healthy workplace, so you will need first aid procedures and a workplace medical program in place at all times.
If you're not sure where to start, OSHA has some online content which talks about their workplace medical standards, as well as an introduction to first aid and further resources for organising your first aid response to ensure employee safety.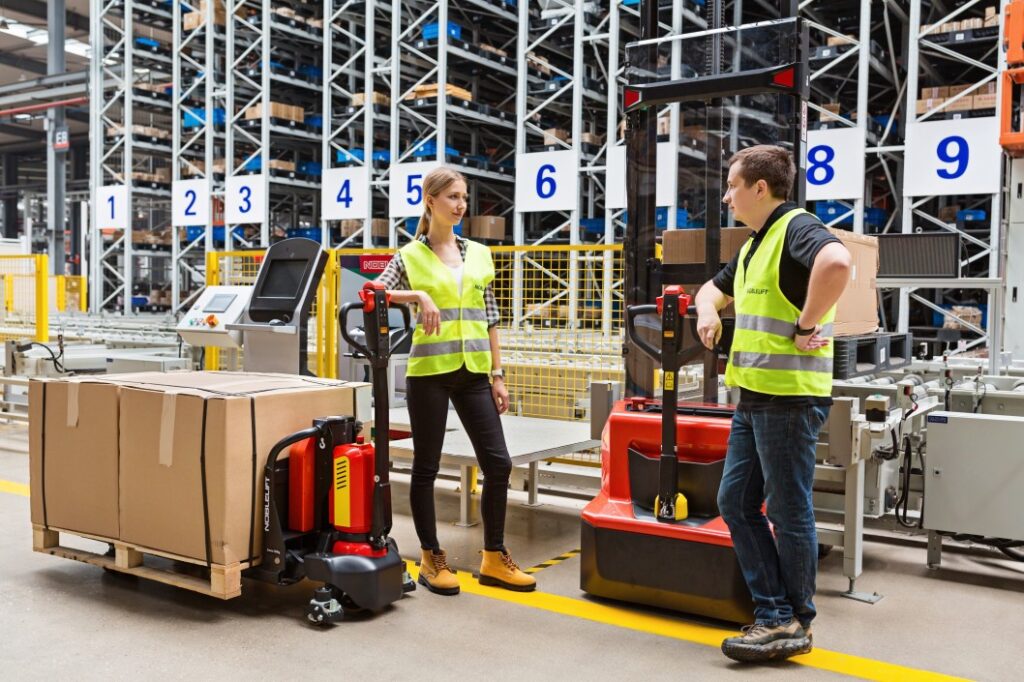 3. Use safety equipment, machines, and tools properly
Generally, manufacturing facilities contain some degree of heavy machinery, conveyor belts or other construction equipment that are potential hazards.
To ensure that your staff know how to use their machinery and tools properly, be sure to conduct regular workplace training to not only keep their knowledge up to date, but to help drive awareness of the potential workplace hazards and risks that are present.
Not only is training on the equipment and machinery crucial, it's important that staff are actively aware of their own responsibilities and of the role of their PPE in keeping them safe at work. It's important that PPE isn't treated as optional by your colleagues; a positive safety culture and regular training can help with this.
4. Educate workers on the hazards
Education, education, education! We talk about it a lot here at SafetyStage, but nothing is more effective at keeping your workers safe than ensuring that they understand the risks and hazards of their day-to-day roles. In order to keep your staff on top of their safety training, you should create a comprehensive orientation program for new starters, followed by regular training and opportunities to earn certificates to keep them engaged.
One really quick way of keeping everyone up to date is by conducting regular short safety meetings. If you're not sure which topics to cover, we've compiled a list of safety meeting topics for manufacturing to get you started. Whether your meetings are a short five-minute chat at the beginning of each day, or you sit the team down for something more formal, regular safety check-ins are crucial to driving a positive safety culture and creating a safe working environment for everyone.
5. Have an emergency action plan
While regular training is crucial, a great way of applying your staff's knowledge to their day-to-day roles is through emergency drills. Conduct regular emergency drills (by surprise, wherever possible) to give staff the chance to put their training into practice in a real-world situation.
The great thing about this method is that any gaps in knowledge of procedures or best practices are easily filled. Doubts about the emergency action plans for each scenario can also be addressed and resolved in a safe environment, instead of in the middle of a real-life emergency!
6. Keep work areas and emergency exits clear
As a core safety rule applicable to businesses in all industries, it's important to keep work areas and emergency exits clear. Sometimes these can become obstructed with staff belongings, clothing or tools, but it's critical to keep these areas clear in the case of an emergency.
These two crucial rules can be put into practice in your safety drills. In fact, it's often worth conducting these on a day when you've noticed the areas are blocked (even if only temporarily) to drive home the importance of keeping the workplace clear of hazards at all times.
7. Inform supervisors of unsafe conditions
Linking back to the creation of a positive safety culture, it's important to encourage the reporting of unsafe conditions to supervisors. This may mean educating them about what a near miss is or showing them examples of incident reports at the workplace.
Whatever you decide to do, it's crucial that your staff feel comfortable and confident in reporting safety concerns — and that they know the best way to do so.
Conclusion
That concludes our list of the seven best safety practices in manufacturing! We hope that this list of tips enables you to feel confident in addressing common safety issues. If you're wondering where to start, understanding OSHA requirements and putting into place some of these best practices is a great first step to preventing workplace injuries and accidents.
References and further reading