OSHA defines a near miss as incidents "in which a worker might have been hurt if the circumstances had been slightly different." They are a precursor to accidents and are opportunities to identify hazards and unsafe conditions. It goes without saying that reporting near misses is a critical tool to create solutions, prevent accidents and injuries in the future and improve your safety culture overall.
Near misses are also referred to as "close calls", "narrow escapes" or "miss accidents".
There are two main types of near miss incidents — unsafe condition near miss and unsafe act near miss.
Unsafe condition
Circumstances, environment, or state of equipment which could lead to an accident occurring.
Unsafe act
Do you need to report near misses to OSHA?
No. You are not required to report near misses to OSHA. But they do recommend recording near miss cases.
"OSHA strongly encourages employers to investigate all incidents in which a worker was hurt, as well as close calls (sometimes called "near misses")"
This should involve recording near misses internally and investigating each incident, regardless of the severity of harm caused.
The latest reporting guidance from OSHA can be found here.
Near miss vs accident
The main difference between a near miss or close call and an actual accident is harm or injury.
Near misses are unplanned events which could have resulted in injury or property damage, but didn't. An accident is an incident that results in bodily injury or property damage of any severity.
It is interesting to note that OSHA highlights the fact that both near misses and accidents are unplanned. The key here is that the circumstances leading to the event — whether unsafe environment or unsafe practices — had thus far gone unnoticed.
The Near Miss Pyramid Theory
Herbert Heinrich wrote in his 1931 book Industrial Accident Prevention, A Scientific Approach,
"No matter how strongly the statistical records emphasize personal faults or how imperatively the need for educational activity is shown, no safety procedure is complete or satisfactory that does not provide for the . . . correction or elimination of . . . physical hazards,"
He was referring to the correction of potential hazards before an accident happens. And, one of the easiest ways to do this is to look at accidents that could happen, before they do.
It was Heinrich who developed the Near Miss Pyramid Theory – a theory which states that for every single fatal incident a company experiences, it will have had 29 serious disabling workplace injuries and 300 lost time incidents.

How many near misses per accident?
In 1966, Frank Bird analyzed the incident reports of over 300 companies — 1.7 million reports in total. He used his findings to expand Heinrich's theory. Bird's Safety Triangle looks deeper into the behaviors leading to potential accidents. In his book, Damage Control, he determined that for each fatality, a company will see: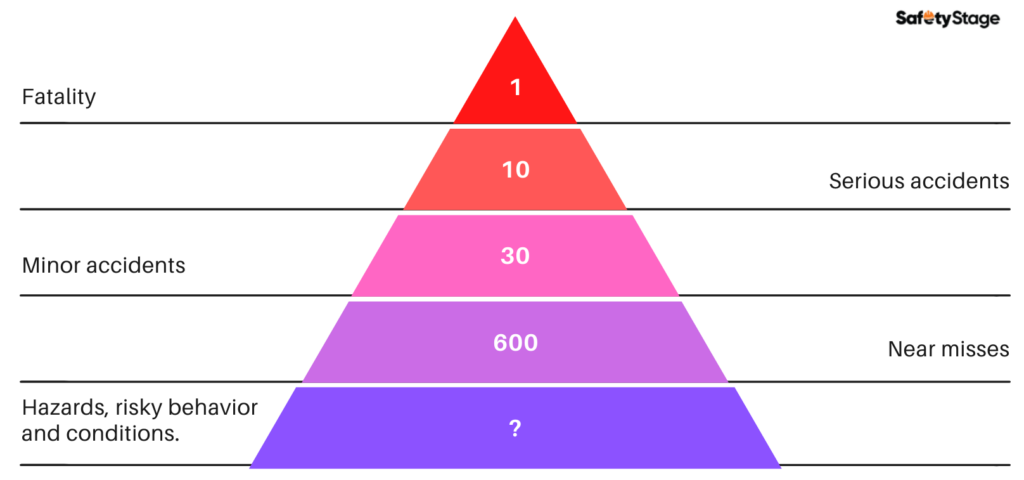 There have been many further studies on this subject. Heinrich and Bird's theory is reflected in most workplaces. But the figures differ depending on the size of the workforce.
Also, as the authors at Risk Engineering note,
"Major accidents in high-hazard industries are generally caused by some unlikely combination of circumstances that was not controlled due to poor decision-making, management pressure for performance at the expense of safety, poor communication, or unexpected interactions between different components of complex systems."
As a general rule, it can be assumed that, for every fatal or serious injury, there will be reports of more minor injuries, further near misses, and an underlying foundation of hazards or behavior which need to be addressed. And, that by identifying these risks and hazards and taking corrective action to eliminate them, the company will be better placed to avoid incidents in the future.
In short, increased frequency of incidents or close calls indicates increased severity of incidents when they do happen.
How to avoid/reduce near misses?
Near misses indicate deeper issues – whether that's the unsafe conditions of equipment or working environment, or hazardous and risky behavior from workers. By identifying the root cause of a near miss, it should be stopped from happening again. However, in practice, the work doesn't stop there. There are several ways to ensure that near misses are acknowledged and used to create a safer working environment for all.
1. Do Root Cause Analysis
There's almost always something deeper at play when near misses happen. It can be easy to look at a situation, identify the most obvious reason, and leave it at that. But, if you look closer, you might find there's more than meets the eye. Furthermore, the underlying issue may be causing more dangerous situations. By solving it, the reduction in near misses and actual incidents will be more significant than originally estimated.
Let's take the example of a ladder falling:
| | |
| --- | --- |
| Near Miss | Two colleagues are working in a storage area, where a ladder is being used improperly. The ladder falls, but neither staff member is in the area and no property is damaged as a result.  |
| Cause | Ladder not properly secured by staff member |
| Reasoning | Cutting corners to save time |
| Root cause | Pressure to meet unrealistic targets |
It would be easy to say that the ladder fell due to improper use or failure to follow safety procedures. But by asking why these procedures were not followed, we find that time saving is being prioritized above safety. This pressure is likely causing other unsafe conditions which can be addressed at the same time.
OSHA has a great Root Cause Analysis Factsheet.
2. Create a comprehensive reporting procedure
Near misses need to be reported just as minor, serious, and lost time incidents do. This can be as simple as having colleagues fill in an incident form every time something happens – or almost happens. But the reporting process gives you a great opportunity to engage staff in the continuous safety improvement of the company.
The reporting procedure could include opportunities to identify deeper causes for concern, allowing staff at all levels to feed back into the system. You could even hold regular meetings at which every near miss event is discussed, and practical solutions are put into place swiftly.
The near miss reporting procedure should form part of the company's overall safety program and should be communicated at all levels, through regular safety training.
Related resource: Near miss reporting examples
3. Keep staff informed
Introduce near miss reporting from the beginning of employment. This makes it part and parcel of everyday working life. In addition, give all levels of staff the opportunity to get involved as part of their role. For example, managers who have their own safety responsibilities, while ensuring open communication with teams.

Create opportunities to refresh employee knowledge and introduce new solutions. Additionally, update any literature and safety posters displayed.
4. Incentivize
Recording near misses should be a standard part of an employee's job. But, rewarding staff for engaging in the process has three key benefits:

Keeping staff engaged in the process and means more near misses and hazards are being reported and rectified.
It encourages staff to feel comfortable feeding back into the company's safety program.
Employees working in a safe environment have increased morale and productivity.
Incentives should form part of your overall safety strategy, read more about safety incentive programs here.
Work with Safety Professionals
Occupational therapists, clinicians and other safety professionals can give you a clear understanding of any obvious hazards and unsafe practices from a different perspective. This provides a great foundation to kickstart enthusiasm for improving safety standards in all areas.
Identified hazards can be rectified immediately, giving staff at all levels a sense of accomplishment right away.
Conclusion
While it is not necessary to report near misses to OSHA, it is a great way to improve workplace safety and a vital step in any continuous safety improvement strategy. By normalizing near miss reporting as a standard part of everyday working life, you ensure that safety is a priority for all staff.
A workplace culture focused on improving safety and looking out for one another leads to increased morale and productivity. You're saving money in the long run, as well as taking care of the people working hard for the success of the company.
Helpful links