Delivering exciting and engaging safety briefings can feel like a difficult task. Disengaged staff, difficult topics, and short attention spans can make them difficult to navigate.
However, our safety experts at Safety Stage understand not only the importance of delivering effective toolbox talks but also of creating a monthly message that really sticks and resonates with your team.
In this article, we'll walk you through some of the best tips and tricks to deliver a safety message of the month that sticks.
What is a safety message of the month?
A safety message of the month is similar to daily toolbox talks but on a larger scale. It's a specific theme/topic that you choose to focus on each month. You could focus on electrical safety this month, on ladder safety in the next, and so on. A monthly safety message can even be tied to a successful safety incentive program for higher engagement.
Why should you prepare a safety message of the month?
By focusing on a particular topic each month, you ensure that your staff gains a deeper understanding of each area. Besides, this creates a certain level of repetition and studies have shown that repetition is key to learning. It moves information from the conscious mind to the subconscious memory where it stays for longer or even forever. So, by creating a month-long and consistent safety message, your team can start to put your training into practice, without even realizing it!
As Zig Ziglar says,
"Repetition is the mother of learning, the father of action, which makes it the architect of accomplishment." 
Needless to say, this makes the delivery method of your message even more crucial. Often, national campaigns such as National Safety Month (in June each year) help raise awareness around workplace safety. But it's important to keep the momentum with monthly safety messages throughout the year.
If you don't know where to start, keep reading! We've got some hints and tips on what to include in your message, as well as guidance on making it stick.
What to include in your monthly safety message
Although it varies between industries, we've pulled together a series of monthly topics that are applicable for most.
Topics you could cover include:
Fire safety
Your (workplace) health and safety goals
Teamwork and communication
First aid and first aid kits
Personal Protective Equipment (PPE)
Slips, trips, and falls
Workforce stress and risk factors
Workplace health and hazards
Day-to-day safety tips
Burning issues such as recent workplace incidents, accidents in the news, and Covid-19
So, let's suppose you decide that next month will be Fire Safety Month — that's the message you want to convey. What do you do to drive awareness around fire safety?
How to reinforce your safety message of the month
Once you have your monthly safety message, you can start thinking about related safety topics to promote it. Here are some free materials and relevant resources available online which will help you cover the same topic in a variety of ways, without it becoming stale or boring.
Format

Notes

Video content

Consider finding a relevant video on YouTube or similar that gets the point across effectively. That might mean watching an

Idiots at Work

compilation or a specific example — perhaps from workplace CCTV — that covers the topic at hand. This not only makes the message more engaging but usually shows the real-world implications of not following safety procedures properly. 

Safety games

Presentations

Presentations don't have to last hours, and they don't have to be boring. You can create a short presentation that hits the key facts and statistics for your topic while keeping your colleagues engaged by using video, memes, or funny (but relevant!) graphics.

Handouts, leaflets, and posters

While they're not necessarily the most exhilarating thing, handouts, leaflets and posters can help your message to stick far beyond your safety briefings. (Remember the point about repetition?) Encourage your team to read them and keep them in a place to regularly refer to, if needed.

Hardhat chats 

If you have a few minutes each day for your hardhat chats, remember to link what you're saying back to your monthly safety message. Consider coming up with a short and snappy slogan to use at the end of each talk that month to make it really resonate!
And, if you're still stuck, check out our list of 100 short workplace safety topics for some inspiration.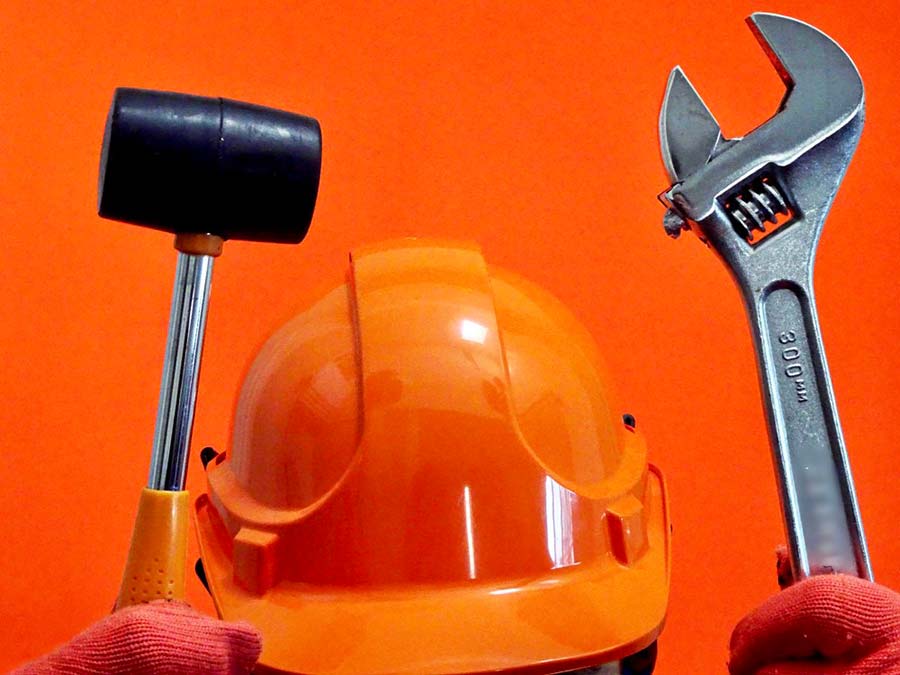 Tips to make your safety message of the month stick
Once you've selected a topic for the month, the next step is to make your message stick for the long-term. Here are some tried-and-tested ways of doing just that:
Tip #1 – Promote the "why"
Promoting the "why" behind your safety messages is really important. Colleagues may wonder why you need to keep talking about the same topic on such a regular basis, or why the safety moment of the day is so important, so be sure to demonstrate and explain.
Tip #2 – Practice what you preach!
Remember that improving safety culture in the workplace starts at the top, so be sure to practice what you preach at every chance you get.
By prioritizing your own occupational safety as an individual or a leader, you demonstrate the importance of your messaging. If you don't follow the guidance set out by you in your own briefings, you risk undermining your safety message. It's like telling your team that it's okay for them to ignore it, too.
Tip #3 – Let employees voice their opinions
Feedback is really important, especially when you spend so much of your life with your colleagues. One good source of feedback is understanding whether your safety briefings are actually working; you can do this with anonymous surveys, pop quizzes, or by asking your team directly what more you can do to make your messages educational and engaging.
Although you won't always hear overwhelmingly positive feedback, by listening and taking on board your colleague's comments you'll understand how to improve. This will not only help you to better deliver your safety messages going forward, but it also demonstrates to your colleagues that their feedback is valued and that you're listening. This helps to build a strong company culture and better teamwork.
Tip 4 – Turn incidents into opportunities
You don't have to suffer from major incidents to make talking points. But, accidents happen and, when they do, it's good to address things while they're fresh in the minds of your colleagues. So make sure to discuss any incidents and turn them into learning opportunities.
Whether it's an eye injury, the use of a first aid kit, or a small slip, encourage your team to discuss what happened and how it can be avoided in the future. By keeping the training relevant to their day-to-day roles and recent experiences, your message will sink in.
Tip #5 – Improve ongoing safety training
Last of all, you want to make efforts to improve your ongoing training. Whether that's monthly updates, daily safety meetings, or 5-minute bursts at the beginning of each day, understanding the ways in which your colleagues learn best will help you to make adjustments
FAQ
What is a good safety message?
A good safety message inspires, educates, and sticks with your staff. If you're struggling to find a topic to talk about in your daily or monthly safety meetings, here are some short workplace safety topics.
Why should you issue a safety message of the month?
Having a particular theme for your safety message each month can help you make more successful safety talks. Besides, the repetition of the topic will keep it at the forefront of your colleagues' minds throughout the month and beyond!
Who should present a safety talk?
Ideally, safety talks should be presented by the staff member who is directing the work, a supervisor, or the on-site health and safety representative. Safety champions can also take part and play a big role in the discussion.
Conclusion
Having a safety message of the month (a specific topic) makes your toolbox talks more consistent, more engaging, and easier to remember. The key takeaways here are to create an engaging method of delivering your safety message of the month. A method that works for the majority of your colleagues. Keep the training and toolbox tools themselves exciting, but be sure to practice what you preach and to continue to uphold high standards in safety in the workplace, too. Remember to listen to and absorb feedback from workers. It's best to keep the training on-topic and relevant to the day-to-day roles of your staff and their current project(s).
References and further reading